This site is obsolete
Please VIST OUR NEW WEB-SITE: http://exploramumourworldtrip.com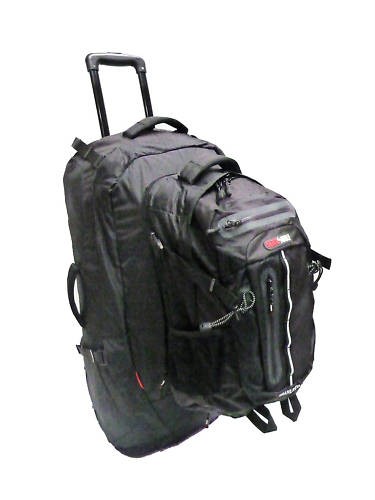 Start early - and I mean way early - start your packing now!
Seriously – if you can put away what you think you will each wear on the trip, then you will have new items you won't be tired of wearing all the time once you go (allowing that children will be up a size).
Then, sell your excess clothes, shoes and toiletries and other bags etc.
Especially sell your business suits and corporate clothes.
List them on-line – set up a store if you have a lot.
That way you can list as 2nd hand and continue to wear them until they are sold.
Near the end you will have to open your luggage and start to merge with the little left in your wardrobe, but it makes it easier.
Don't save many clothes, as by the time you come back, the fashions will change.
We tried to find 10 things a day.
Now you have copied your CD's and DVD's to your computer, or ripped to a USB, sell off what you don't really want.
Remember if you have a child, they will be older on return and not want ½ of them.
We went through this two or three times as well as toys.
Luggage and Bags - Backpack / Suitcase
I suggest 2 rolling backpacks as your main luggage.
Or a good large rolling backpack, and an old rolling suitcase you can discard along the way.
You can easily sell for a few $$ once you have used the contents up.
Buy a rolling backpack that is as light and as big as you can handle, and that has lots of pockets especially a separate pocket for shoes and wet items.
Our friendly repairer - The Bag Doctor, enthusiastically helped motivate us for this trip.
Plus made sure our luggage was the right quality for the trip and gave us some great tips.
He recommends a wide strap around your bag as it adds as an extra handle.
He also added a pull out base so the backpack can stand up using the rolling feature.
We would love to feature a link to the supplier here and are awaiting confirmation as there are a great product, and also make your bag easy to identify.
What Luggage and Bags to Pack & what requirements
Ultra strong and lightweight extra large tote bag
Great to use for moving short distances if you have bedding etc.
Use airline friendly locks or tie thread through the zippers so you know if your bag is tampered with.
Refer The Bag Doctor recommendation above
Backpacks for planes and buses
We then both have small rolling backpacks with lots of pockets for the plane.
A smaller one for the child.
Always buy quality for your bags – I bought a new one for my son off ebay at a fraction of the original price.
I found 2 small rectangle insulated ones that folded flat – great for keeping lunches cold when hiking.
Buy a separate backpack again with lots of pockets (you pack in your luggage).
You can pre-pack with day items in your luggage.
Make sure the day pack has pockets for your water bottles on the outside, and preferably elastic lace thatch area you can stuff a jumper etc.
Add to your bag - Sew on Aussie badges
I have been told in some countries it is safer to be an Australian than some one from the States – eg: Cuba etc (not wishing to offend).
I still suggest the safety of a money belt for both child and parent.
Though be aware these are dead easy to pickpocket in a crowd, same as your backpack.
My son has to carry his iPod and camera in his, though I sometimes take when we are in dubious places.
A tip – never let them play with electronics in 3rd world places like café's where you can be a target for robbery.
Parents - be responsible and set rules before the trip on how often and where they can use.
My son is never permitted to play and walk as easily distracted, hands can't be held, and a target for robbery.
I have also read to attach Velcro to your daypack or money belt front.
You will hear it if some one tries to open it.
Make sure it is not an area that sticks to your clothes.
Internal pouch or thin cloth flesh coloured Money Belt
I carry one for use of valuables.
Sometimes though, it is hard to access at times, so be practical as you can expose it un-necessarily.
And finally before you go.
... Test everything !
This point has been sent to me by my sister tonight by iPhone from the Aussie Bush.
She has a new folding shovel and is out camping. And alas it will not open.
She has reminded me to TEST EVERYTHING.
That zips work, locks function, and gadget all open and close.