Clothes to send overseas by sea
You main find if you have a fabulous array of clothing, it may be worth sending it on for the next season.
Most people try to travel with the warmer weather, so you may find your summer clothes wear out quickly.
Hiking rips clothes, things get stained, and washing facilities can be poor, chlorinated pool ruin swimwear and just plain old boredom of your limited items you are dragging with you.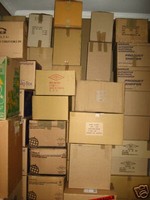 Spare summer clothes, underwear, and shoes, & possibly next size children's clothes.

Winter clothes, thermal underwear, scarf, beanie, balaclava, ski gloves, leather gloves, warm jackets, thick socks, ski goggles, boots and shoes to name a few.
Take child's growth into consideration.
Parcels should only contain clothing, toiletries, books and shoes you have that are too good to sell or more expensive to buy.